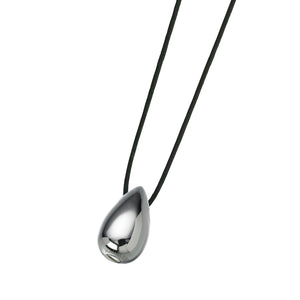 Description:
This sterling silver teardrop pendant has a polished finish.  Satin cording slides through the tip of the teardrop.  This piece is hollow and holds a small amount of cremains inside. 

Pricing:
Standard Retail: $165.00   Now 25% off   Reduced To: $123.00
Specifications:
Material:  Sterling Silver
Closure:   Threaded on bottom side. 
(If Sleepy Hollow filling, pendant will be sealed with loctite glue)
Black Satin Cord Included   (No Chain)

Sizes:  .44" x .87"
Options:
+ Sterling Silver Chains (Click link below)
Chain, 20" Sterling Silver Snake Chain
Chain, 24" Sterling Silver Box Chain
+ Stainless Steel Chain (Click link below)
Chains, Stainless Steel