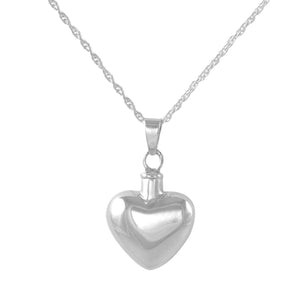 Description:
This heart pendant is a perfect size and includes a 18" light weight matching chain. The piece is hollow and is made of 925 sterling silver which holds a small amount of cremains inside.
Pricing:
Standard Retail: $125.00   Now 25% off   Reduced To: $94.00
Specifications:
Material: Sterling Silver
Closure:  Threaded Bail 
(If Sleepy Hollow filling, pendant will be sealed with loctite glue)
Light Weight Complimentary Chain Included
CHAIN NOT GUARANTEED
Size:  .8" x .8"