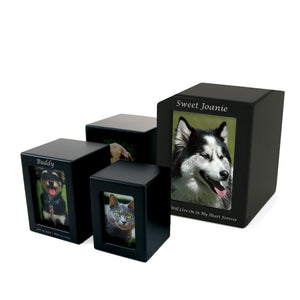 Description:
Simple and elegant MDF veneer photo box with a beautiful black matte finish. The photo slot is separate from the cremains compartment.
Optional Engraving:
Laser Engraving is placed on the FRONT above and below the photo


Inscription only, no graphic emblems

Lettering in all caps may decrease character limits

The more characters per line the smaller the lettering

With engraving, please allow up to 2 1/2 weeks for completion.  Please note that personalized engraved merchandise is not refundable.

You can also have an engraved plaque placed on TOP of the urn instead of the laser engraving. 
See Engraved Plaques to order.

If you would like to customize the engraving, please give us a call for personalized assistance (530) 365-9093.
Specifications:
Material: MDF (Medium Density Fiberboard)
Closure: Sliding Panel at Back (1 screw)
Sizes:  (Pet Weight)  Urn Length x Width x Height
Small  (to 30 lbs)   3.4" x  3.6" x  5"
Medium  (to 50 lbs)   4"x  4.3" x  5.8"
Large  (to 100 lbs)   4.8" x  4.9" x  6.5"
X-Large  (to 200 lbs)   6" x  6.2" x  9"